January 3, 2019
In the News: Talking Social Justice, Space Travel, and Sports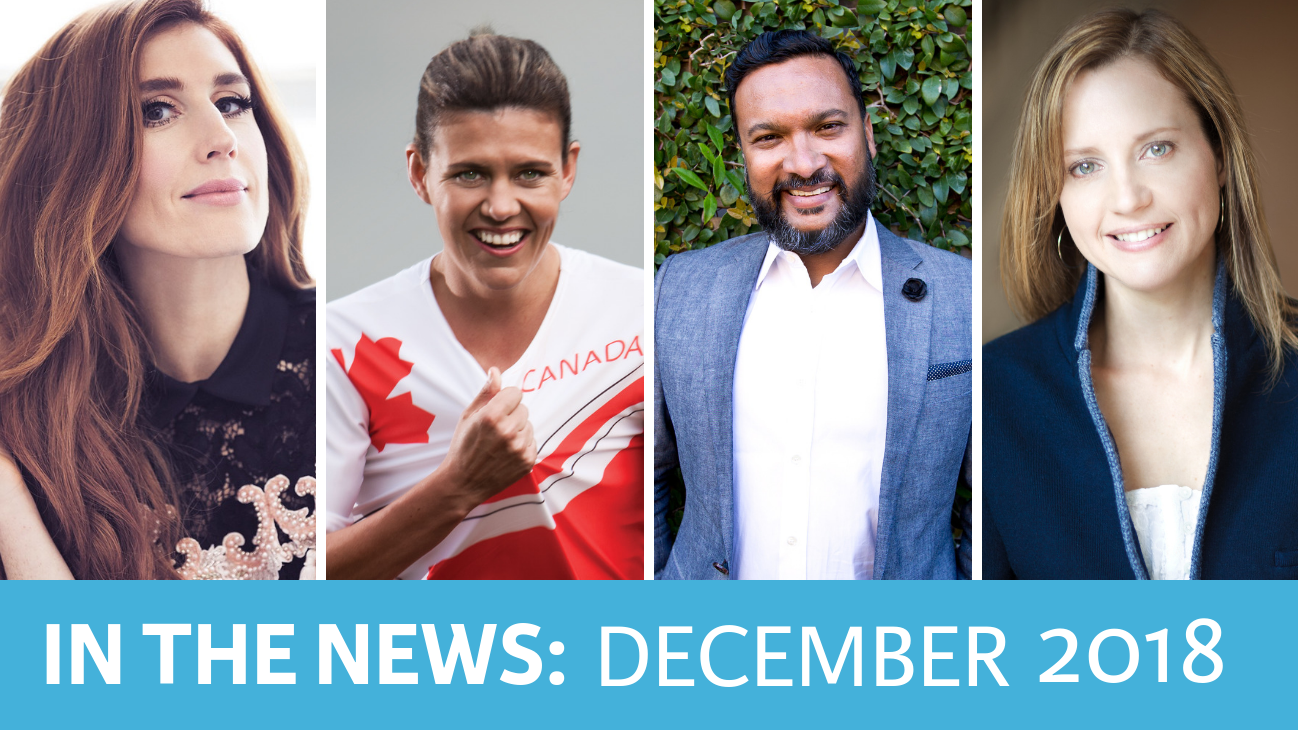 We have an impressive roster of speakers who are often asked to contribute articles or commentary in their fields of expertise. Here's a round-up of some select media coverage in December 2018 where our speakers have been featured:
Afdhel Aziz | Social Entrepreneur | Expert on Brand Purpose & Marketing
Social entrepreneur Afdhel Aziz spoke with Founder of War Child Canada and War Child USA, Dr. Samantha Nutt, on advocacy, awareness, and how brands can work with non-profits to create compelling, authentic partnerships. Read his Q&A via Forbes here.
Chris Bailey | Productivity and Performance Expert | Bestselling Author, The Productivity Project
Learn how to tame your email inbox in 2019 via CNBC Make It, who drew on the expertise of productivity expert Chris Bailey and his new book Hyperfocus: How to Be More Productive in a World of Distractions.
Jennifer Botterill | Three-Time Olympic Gold Medalist
Three-time Olympic gold medalist and an Olympic silver medalist with the Canadian Women's Hockey Team, Jennifer Botterill has now become an analyst for the New York Islanders, broadcasting on roughly 20 games this season.
Jessi Cruickshank | Television Personality
Jessi Cruickshank writes a parenting column for Flare magazine on what it's "really" like to be a mom of twins. Her December column talked about the biggest rejection of her life. Read it here.
Julie Daniluk | Co-Host of OWN Network's Healthy Gourmet | Nutritionist
Nutritionist Julie Daniluk gave holiday hosting tips via The Huffington Post on how to accommodate a variety of dietary needs.
Mandy Gilbert | Entrepreneur, CEO & Innovator
A little bit of coaching goes a long way — Mandy Gilbert, founder and chief executive of specialized recruitment firm Creative Niche, shares three essential tips to get better leaders on your team via Inc. magazine.
Chris Hadfield | First Canadian Commander of the International Space Station (2013)
Marc and Craig Kielburger | Co-Founders, We Charity (Formerly Free The Children and Me to We)
Marc and Craig Kielburger wrote a column for the Times Colonist on how we can all make "seasonal kindness" last all year long.
Clint Malarchuk | Former NHL Goaltender | Mental Health Advocate
A great profile on Clint Malarchuk via The Post on his journey as a mental health advocate after his horrific accident where his throat was inadvertently slashed by an opposing player's skate.
Dr. Samantha Nutt | Founder of War Child Canada and War Child USA
Dr. Samantha Nutt speaks to RanttMedia on creating a sustainable, long-term, community-driven approach in the hope of eradicating chronic violence and the horrific human cost of war.
Kevin O'Leary | "Shark" on ABC's Shark Tank | Journalist and Television Personality
Kevin O'Leary, along with his Shark Tank co-star Barbara Corcoran, were among five experts that CNBC Make It interviewed to help people avoid five major money mistakes in 2019.
Michele Romanow | "Dragon", CBC's Dragons' Den | Co-Founder & President, Clearbanc
Michele Romanow secured another US$50 million dollars in support of her latest startup Clearbanc, a financial provider for e-commerce firms. This comes just weeks after announcing they had raised US$70 million in funding. Learn more in the articles below:
Christine Sinclair | Olympic Medalist | Canadian Women's Soccer Captain
Christine Sinclair was named Canada's top female soccer player for the 14th time! Read more via CBC Sports.
Maclean's writes that Christine Sinclair is poised to make goal-scoring history and become the most prolific goal scorer (man or woman) in the history of international soccer.
Nicole Stott | Astronaut | Aquanaut | Artist
Online magazine Quartz interviewed Nicole Stott on the 50th anniversary of the famous "Earthrise" photograph that was taken aboard Apollo 8. It was the first photograph to truly illustrate how incredible and fragile the earth is floating in the cosmos. Nicole talks about the impact this photograph had on her life and how far we still have to go.
Nicole Verkindt | Founder, OMX | "Dragon", Next Gen Den
The Globe and Mail's Report on Business wrote a great profile about Nicole Verkindt on how opening her business to clients outside of Canada strengthened her organization and improved her operations.