July 22, 2019
50 Years Later: Colonel Chris Hadfield on the Apollo 11 Moon Landing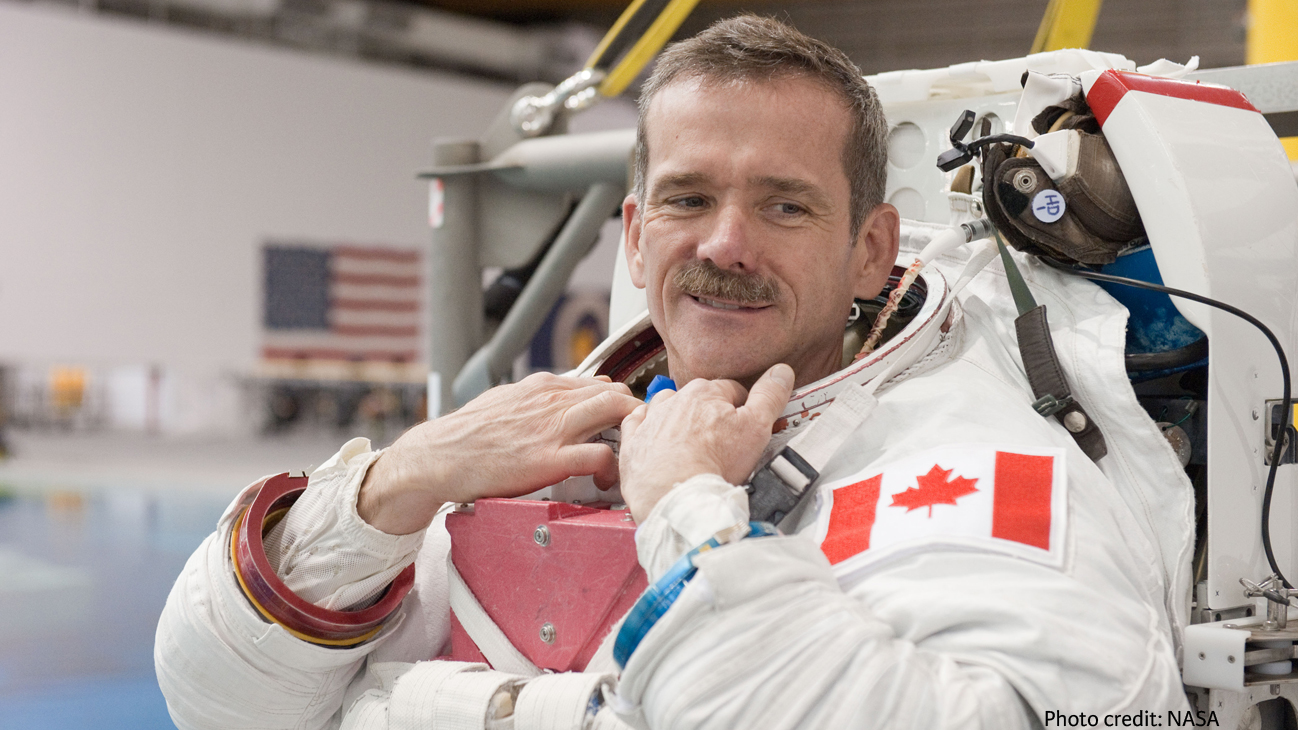 July 20, 2019 marked the 50th anniversary of the Apollo 11 Moon landing, where Neil Armstrong became the first person to walk on the Moon. Colonel Chris Hadfield — celebrated astronaut and the first Canadian commander of the International Space Station — spoke with both CNN and Global News about the historic event and how it changed his life forever.
Chris was nine years old when they landed on the Moon. He managed to convince his parents to let him stay up late and watch it, not knowing then that it would change his entire life. Chris told CNN:
I just thought that this was something that used to be pretend and fantasy and science fiction. Now, it's real, you can actually do these things. You can be a person that can leave Earth and go to the moon. It was like someone kicking a door open that could never be closed again, and I wanted to go through that door.
Watch the whole interview:
He went into further detail with Global News, speaking to the anticipation that hung in the air as his family and neighbours all crowded around a small, black and white, fuzzy television. It was, at the time, the most televised event in history.
"Something like half a billion people were sitting just like we were, all at the same moment, kind of holding their breath," Chris said.
For him, he said the historic moment fell somewhere between "puzzling" and "immensely inspiring" as he wondered how this could possibly be happening right now.
Watch the whole clip here:
He was joined with fellow Canadian astronauts Julie Payette and Marc Garneau to share their memories of the moon landing with Global News.
I resolved directly as a result of that hot July night in 1969, I resolved to try and turn myself into an astronaut. I just knew that I was going to grow up, and I was going to grow up to be something — I could grow up to be that.
Watch the whole segment below:
Referred to as "the most famous astronaut since Neil Armstrong," Colonel Chris Hadfield is a worldwide sensation whose video of David Bowie's "Space Oddity" — seen by over 75 million people — was called "possibly the most poignant version of the song ever created", by Bowie himself.
Acclaimed for making outer space accessible to millions, and for infusing a sense of wonder into our collective consciousness not felt since humanity first walked on the Moon, Chris continues to bring the marvels of science and space travel to everyone he encounters.
Interested in learning more about Chris and what he can bring to your next event? Email us at [email protected].